Lookouts
Look out for Lookouts - Coming 30/03/22
---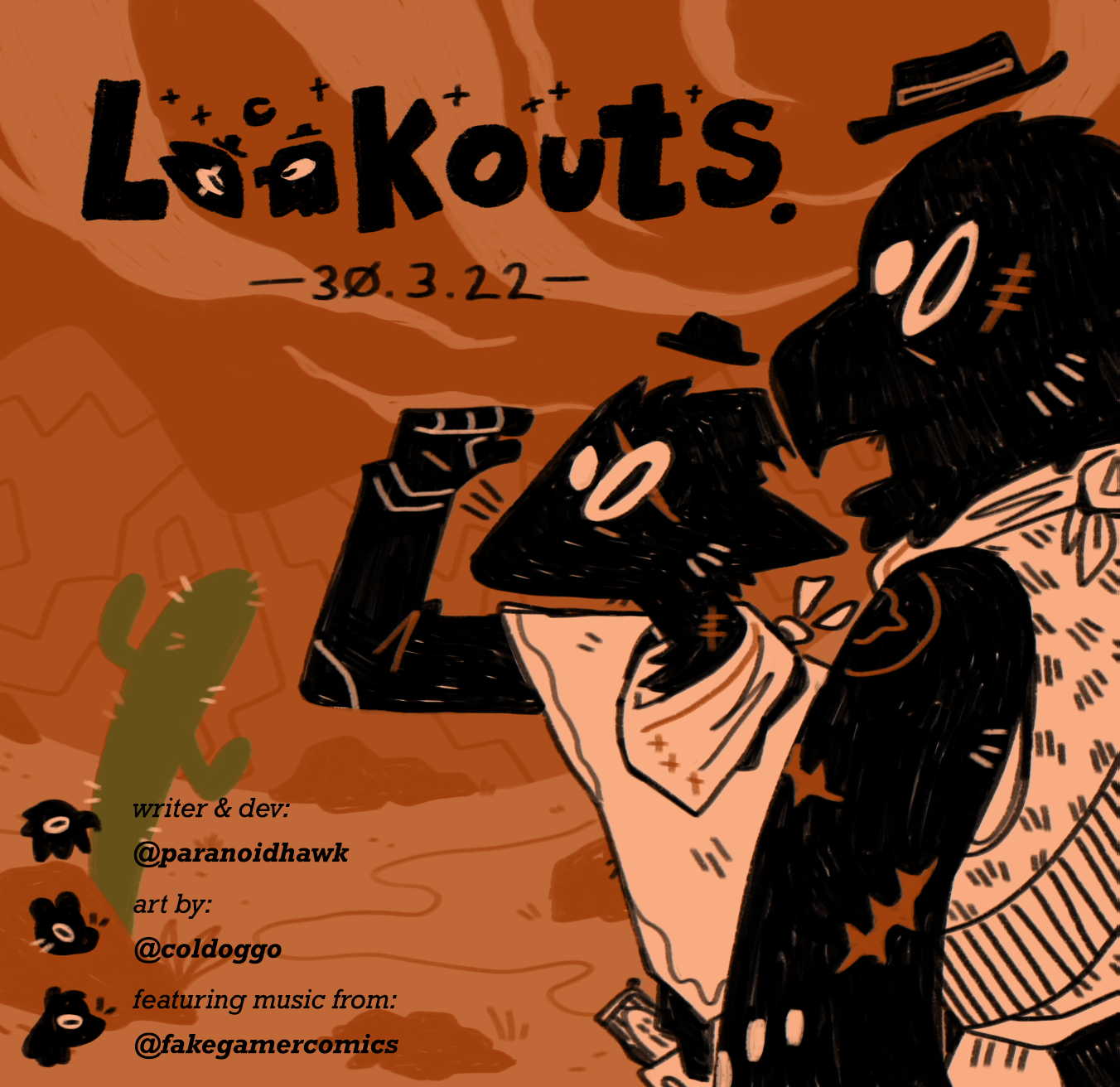 We've been hard at work and keeping pretty quiet, but we are proud to announce now that the thrilling conclusion to Lookouts releases this month!

Mark your calendars for March 30th when we'll be releasing the all-new, much expanded version of Lookouts. This game is very close to our hearts and all the love and support you've been giving us over the last couple years has meant the world to us and kept us going, so we really hope you'll enjoy the new, much larger game we've cooked up!
The new version of Lookouts will remain completely free for everyone, and alongside it we'll be offering Lookouts: Gold Edition - a paid collector's edition type bundle, giving you a bunch of goodies and exclusive content for supporting us. The game will be the same but along with it you'll get:
A Behind The Scenes artbook, with developer notes, concept art, all that good stuff
Wallpapers for desktop and mobile
A copy of the incredible new original soundtrack by Jamie (@fakegamercomics)
Bonus mini-comics of extra stories with the characters
High resolution sprites, backgrounds, and CGs
More(? (No probably not but this is a lot of cool stuff right))
FAQs
"How long is the new version?" We're estimating a playtime of about 6 hours, at a rough guess, with the story's word count being at around 45,000 words.
"Will the new update be as good as the original?" It will be even better, with improvements made to the writing, art, soundtrack and accessibility! The original story has been heavily expanded and updated to be what we always wanted it to be.
"Can it still be played on browser?" Yes! It will remain available to play in-browser. The new game will be available on Windows and Android as well! We're hoping this'll make it available to play for everyone.
"What if I want to play the original Lookouts?" Don't worry! The old version of Lookouts made for Gay Western Jam will be moved to a new, separate page on itch.io so you can still play it, while the main page will have the new version.
"How much will Lookouts: Gold Edition cost?" For only £5 you can get access to all the exclusive collector's edition content! This price isn't capped though, so if you would like to pay more and support our work that's also an option! This is pretty much our jobs right now so every penny helps.
"Can I pre-order the Gold Edition?" No, we're afraid not! Because the release is so soon, we'd rather not keep people waiting for it if they've paid, especially if the game gets delayed due to unforeseen circumstances.
"Can I do fanart or play Lookouts on my stream?" Absolutely! We love to see people enjoying the game! We're a small game dev team so we appreciate it if you link people to the game on streams, or if you tag us in fanart so we can retweet it on our accounts!
Once again, thank you all for your support! Every comment, rating, tweet etc. we get is genuinely so energising and cool to us and we never stop being amazed and humbled by the love people have given our gay little game, and we're so excited to get the game out there finally for you to play.
See you soon, cowboys!
With love, from Hawky (@ParanoidHawk) and Col (@Coldoggo)